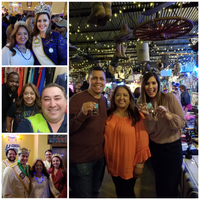 Fiesta is one of our annual fundraiser events.
Fiesta is once a year in San Antonio. As we come together to celebrate as a city and as a community we at Overflow party with a purpose! This is our time of year to raise money for organizations that are dear to our hearts. It is a fun and great time for us. We are one of the best places to get your fiesta outfits, fiesta medals and accessories here in San Antonio. Visit our store LOLA'S BOUTIQUE at 6028 S. Flores, SA TX 78214. Only boutique on Southside of it's kind. We also have an online store along with pop-up shops during fiesta. Enjoy family and friends, but most importantly enjoy Life. Remember we create fiesta products and you create the memories.
Bible Loteria Game
Here's how to play the Bible Loteria game everyone is raving over!
If you like gathering with friends and family this game will make your event one to remember.
Here's a few ways Lola's Boutique gives back.
Testimonials
Lola's is faith and love driven and it shows in all their merchandise. In supporting this business your helping many wonderful organizations in San Antonio that they are affiliated with.

Connie Garza Wilson
Allison went over and beyond to help me and my husband make our suprise Disney trip for our kids extras special. I had an idea of matching shirts with Christmas theme and Allison not only delivered on design, but quality. We received so many compliments while we were there... I am so so happy we chose her to purchase our t-shirts from!

Leslee Owen
I gave them less than a week to get my teams jerseys ready for the Harlandale Alumni tournament and she did a great job in such a short time. I will be recommending anyone and everyone to her.

Gabriel Gomez